The Philosophy behind the framework
Before we started with openM2 we did several software development projects from scratch - and soon noticed that we always faced similar requirements.
Consequently the following question came to mind:
How can someone develop individual software solutions at a fraction of usual costs while preserving the value of a tailor-made software?
Our answer was:
By having a highly flexible software framework that does all the base work for you and lets you focus on the main customizing tasks.
openM2 - the Business Application Construction Kit​
We like to call it a B.A.C.K. - a Business Application Construction Kit that goes beyond the use of some APIs.
openM2 comes with an abundance of highly customizable tools and features. You can start to compose your business objects and wire them to the business processes you need with minimal need for programming. You will find yourself doing all this within a fraction of the time and risk compared to other individual software development tools.
This way you can create your own individual business application at LOW COST.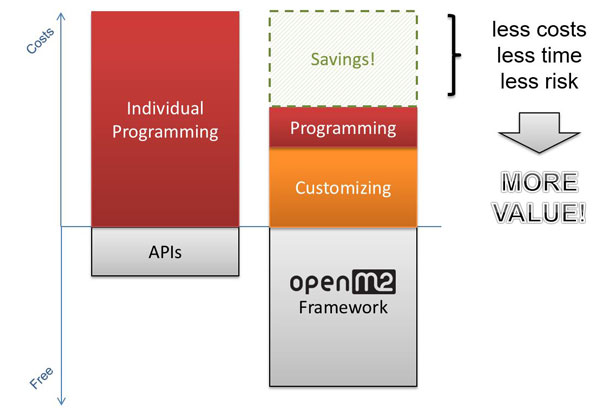 openM2 - more value with Open Source compared to Commercial Software
Open Source vs. Commercial Software development​
Business software development has no real end - because your business grow and your software solution has to grow with you.
Commercial Software demands investment into software licences but denies you control of the requirements that should be covered by the software.
Whereas Open Source Software lets you assert full control and gives you the freedom to invest into innovation instead - creating MORE VALUE.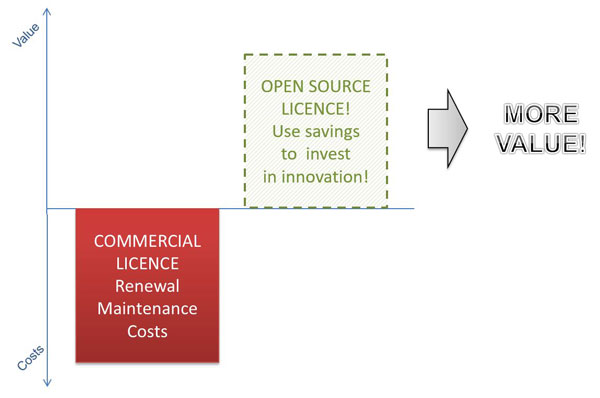 openM2 - more value with Open Source compared to Commercial Software